Two things that accessible pedestrian signals guarantee to blind and visually impaired pedestrians: autonomy and safety! Ever since they invented them in 1993, Okeenea Tech enables 1.7 million users with a visual impairment to safely navigate the streets of France, thus becoming the leader in the APS French market!
But a new time has come and with it a more connected APS has emerged: aBeacon! A true innovation to make all cities more accessible and more inclusive! This third generation of accessible pedestrian signals make it easier for blind users to locate the crossing. This has always been one of their most challenging issues regarding their mobility. 
Take a look at how aBeacon is shaping the future of accessible pedestrian signals across the world and how it revolutionizes the way the visually impaired can apprehend their city!
What kind of accessible pedestrian signal is aBeacon?
A question with an easy answer: aBeacon is a third generation APS that can be activated remotely and on demand with a remote control or a smartphone app. 
The perfect innovative solution to help blind and visually impaired pedestrians safely cross the street!
They rely on audible signals to get around in the city with more autonomy. 
Blind and visually impaired people can't hear better or less than other people but they actually focus on the sound environment.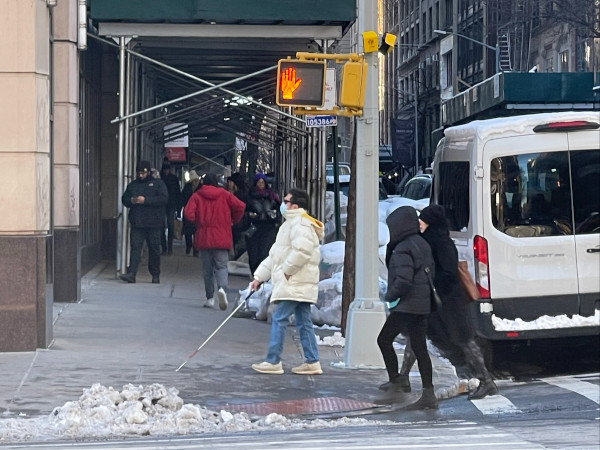 The aBeacon accessible pedestrian signal fixed at a pole at a crossing in New York City
And when they walk in the street, they pay particular attention to all the actors involved: cars, buses, cyclists, motorbikes, scooters…
With the technological advances and features of aBeacon, they can rely on a safe system:
By remotely activating aBeacon,

they can easily locate the beginning of the pedestrian crossing

. The audible signals guide them to the crossing.
This represents its most important asset as people with a visual impairment struggle to find the crossing and press the push button.
Through the device used to activate aBeacon,

users can select the appropriate crossing according to their destination

. 
They can either use a smartphone app called MyMoveo. The app lists the intersections that have accessible pedestrian signals so that users can choose which intersection to activate. 
89% of blind and visually impaired people use a smartphone in their everyday lives!
Or they can use a remote control. Functioning with Bluetooth, the remote control vibrates whenever it detects accessible pedestrian signals to activate nearby. Users can then click on the remote control and it announces the different intersections. Finally, once every intersection has been announced, users can select the intersection they want to cross.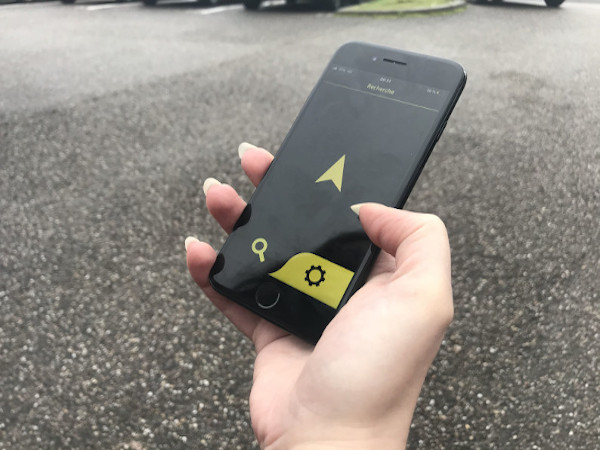 This way, the information is segmented. Users feel less overwhelmed. Every piece of information they need to find their bearings is provided in due time to avoid any confusion. 
Both of these activation devices enable users to find their bearings more easily. They always know where they are seeing the devices name the intersections.
aBeacon lets them know

when it's their turn to cross the street

following the WALK signal.
An accessible pedestrian signal such as aBeacon brings more autonomy and reassurance. Blind and visually impaired users don't need to ask other pedestrians where to find the beginning of the crossing. Plus, they have at their fingertips two different contactless devices to activate aBeacon on demand and remotely.
aBeacon: an accessible pedestrian signal in action
What does it look like implementing our accessible pedestrian signal aBeacon? 
Easy installation
To equip an intersection, you need to have two aBeacon devices fixed on traffic lights poles on both sides of the crossing.
Reliability
Our accessible pedestrian signal aBeacon is robust, vandal-proof and waterproof. 
High-quality sound
Thanks to its high-performance sound, aBeacon broadcasts a clear message covering urban and traffic noises. Its sound volume can be customized according to the acoustic environment of the intersection. 
Blind and visually impaired users can clearly hear our accessible pedestrian signal even when they need to cross very large intersections encountered in big cities. The broadcast carries on throughout the whole crossing.
The technology provided by aBeacon enables it to reach a volume of 91 dB.
Audible pathway
When visually impaired users activate aBeacon to cross, the aBeacon set up across is also activated thus creating a guiding sound corridor.  
This enables pedestrians to cross without going off course. The broadcast is conveyed throughout the entire crossing guiding them safely to the other side. This reassures blind and visually impaired pedestrians.
Easy setting up
You can easily customize sound volume, messages, voice synthesis and broadcasting hours according to your needs with our Android app.
Of course, our team provides you with all the necessary information to use it and remains at your disposal every step of the way, even after aBeacon is fully set up.
Push button-compliant
Being a third-generation accessible pedestrian signal, aBeacon doesn't actually need to rely on a push button. 
But aBeacon is indeed compatible with push buttons and can be connected to them in order to equip all intersections. It actually improves the existing system in place.
The reason why aBeacon has been developed to suit accessible pedestrian signals connected or not to push buttons is because we're convinced that a contactless activation will be essential at some point in the future. 
After all, this can limit the spread of the pandemic that has taken over our cities since that COVID-19 can be found on tactile surfaces. 
How Can Accessible Pedestrian Signals Become Responsive to COVID-19?
Plus, as we've demonstrated earlier, a contactless activation enables users to activate accessible pedestrian signals while walking, thus easily locating the beginning of the crossing. 
An accessible pedestrian signal that's push button-free is like a glimpse into the future where connected smart cities are the norm. 
At Okeenea Tech, we always think ahead to better meet the needs of blind and visually impaired users and make their lives easier. And what's better than safely crossing the street with a reliable and innovative accessible pedestrian signal? 
New York City is currently testing our augmented APS. What about your city?