For cities, the goal of having a public transit system such as Bus Rapid Transit (BRT)* is to provide users with a fast, efficient and punctual means of transportation to easily get around in the city and its areas. A true solution for urban enhancement. However, a constant improvement of traffic and the promotion of active mobility means that cities have to rethink their urban landscape. This leads to removing traffic lights. But what about blind and visually impaired pedestrians? What can be done to replace
accessible pedestrian signals
, created especially to make them
cross the street safely
? 
This is where Okeenea's expertise comes into action thanks to an audible signage solution. Installing audio beacons guarantees blind and visually impaired people to safely get around by themselves in the city even though they are deprived of their usual landmarks. The city of Rouen, in France which provides bus rapid transit TEOR decided to remove traffic lights downtown and to install our audio beacons solution. After a few testing months, these new signals were gradually deployed on other sites with similar issues. An innovative solution that makes sure the most vulnerable pedestrians are safe!
Sit back and take a ride with us!
Removing traffic lights on bus rapid transit intersections
The TEOR (East-West Transport System in Rouen) is a bus rapid transit (BRT) that benefits from a dedicated lane around 60% of its route. Just like other cities in France, studies showed that traffic lights downtown tended to compromise the regularity and punctuality of this essential transport for the inhabitants. In order to improve this service, traffic lights were removed on Alsace-Lorraine Street, one of the main arteries of the right bank. Besides, a 30km/h speed limit was then imposed on this street which also became available for cyclists to ride two-way.
More and more cities around the world also choose to
remove traffic lights
since it was proven that traffic lights did not in fact prevent car accidents involving pedestrians. The benefits of removing traffic lights in terms of road safety are indeed relevant:
Reducing bad driving practices (e.g. running red lights, accelerating through a yellow light, etc.);

Reducing vehicle speed;

Avoiding motorized traffic congestion;

Decreasing noise and pollution;

Lowering operating costs. 
Although this initiative proves to be successful in having a smooth flow of traffic and in promoting active mobility, meaning that more and more people use public transportation or cycle, for blind and visually impaired pedestrians this causes a loss of familiar landmarks and a feeling of insecurity. In Rouen, removing traffic lights also implied removing the audio signals that accompanied them. Seeing that Alsace-Lorraine Street is located at the historic centre of the city with a busy shopping district, between a multimodal hub and Saint-Marc square where three markets a week are set up, it was important to bring a valid solution for all. An association for visually impaired people also happens to be located there. The city of Rouen, being aware of the difficulties encountered, decided to test a device locating the major pedestrian crossings.
Installing audio beacons on unsignalized crossroads
When the city of Rouen first asked us to equip their unsignalized crossroads on BRT routes, we swung into action to gather up all our expertise on audio signage. Not only did it consist in locating pedestrian crossings for blind and visually impaired people but also in providing a system to alert bus drivers that a vulnerable pedestrian was present. With this system, bus drivers can only but increase their vigilance. The city tested two competing solutions. "Okeenea's device was chosen for its design, its easy installation and configuration", tells David Breton, the project manager in specific devices and innovative projects of Rouen.
In collaboration with Ineo Normandie company, we conceived a completely innovative device. Our audio beacon is integrated in a device fixed on a pole. At the top of this pole, a flashing orange light signal is connected to the audio beacon. That's how bus drivers know that a vulnerable pedestrian is crossing the street. Blind and visually impaired people use a universal remote control or a smartphone app. They can use either one of these tools to activate the system and get audio information on the crossing. For example, the locating message emitted can be: "Mind the pedestrian crossing platform TEOR Alsace-Lorraine Street." Thanks to this message, visually impaired pedestrians can head towards the beginning of the crossing and at the same time, the light signal that's associated with it warns bus drivers of their presence. One solution for two different parties involved!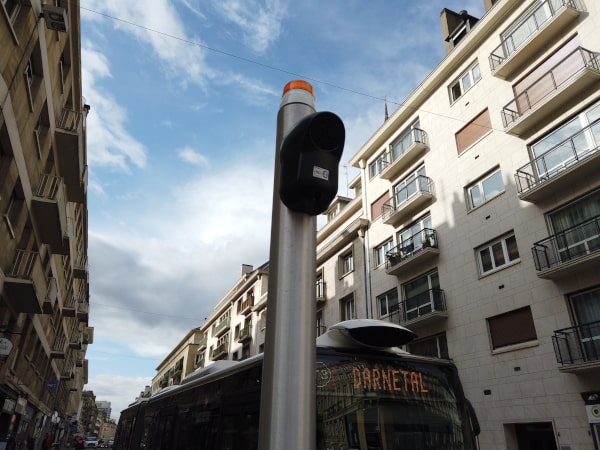 The device with audio signals is fixed at the pole in a BRT route in Rouen
According to David Breton, "testing this solution enabled us to bring improvements such as delay adjustments. It's also thanks to working with blind and visually impaired users that the poles, located at first at 1.20m from the pedestrian crossing, were then brought to 50cm from it." It is obvious that blind and visually impaired pedestrians are best suited to tell urban designers what they need to be safe and autonomous when getting around in the city. The technical manager also adds: "We intend to deploy this audio signage system on all targeted intersections, where it is necessary."
It's a cost-effective system that can be installed on all types of unsignalized intersections such as bus rapid transit intersections or others. This simply consists of setting up poles on each side of the crossing, poles that are power connected. Of course, this infrastructure may already be put in place thus saving time and money! 
Audio beacons on bus rapid transit intersections enable blind and visually impaired pedestrians to easily locate the crossing. They offer a compatible solution with different types of infrastructures and enable vulnerable pedestrians who are even more vulnerable without accessible pedestrian signals to safely cross the street.
Although accessible pedestrian signals still remain the best solution for them, audio beacons provide a vital landmark in such a complex environment and secure their crossings. Bus drivers are aware that a visually impaired pedestrian is crossing the street thanks to a flashing orange light. Consequently, it is vital to inform users of this new implementation: pedestrians with a visual impairment as well as all road users. It takes everybody to create an inclusive society! 
Are you looking to implement a new audio signage solution to make up for the removal of traffic lights for your vulnerable pedestrians? Contact us!
*The United Kingdom provides a similar bus service with High Quality Public Transport (HQPT).