In order to solve the smombies problem, those pedestrians who'd rather look at their smartphone rather than the road while crossing the street and who can be involved in serious accidents, the RATP (public transport operator in the Parisian region) has developed an app called AMY that's specially designed for smartphone addicts. Combining AMY with our new connected Accessible Pedestrian Signal aBeacon installed on traffic lights, smombies are directly warned of a potential danger on their phones. Mantes-la-Jolie, located to the west of Paris, is the first town to install this combination on one of its crosswalks.
The rise of smombies 
If you're not familiar with the term smombies yet it's normal considering it only exists since 2015. Combining the words smartphone and zombie, it's used to define a problem that's becoming more and more recurrent with the digital era: smartphone addicts who don't pay attention to their environment while walking on the streets and who not only put themselves in danger but also others. 
Nowadays, more than 65% of French people use a mobile phone and admit they don't take their eyes off it when they're crossing the street. Consequently they are not aware anymore of the dangers around them. 
Unfortunately accidents involving pedestrians have increased and some of them can even be lethal. In order to countervail them, cities, their transport networks and their partners need to adapt to ensure everybody is safe and must thus find the appropriate solutions. 
The crosswalk located at Aristide Briand square in Mantes-la-Jolie is the first one to test the combination of aBeacon with the app AMY. Associating AMY with aBeacon, our connected Accessible Pedestrian Signal with on demand sound activation for visually impaired pedestrians, smombies can be alerted on their phones before starting to cross the street while the pedestrian signal is red.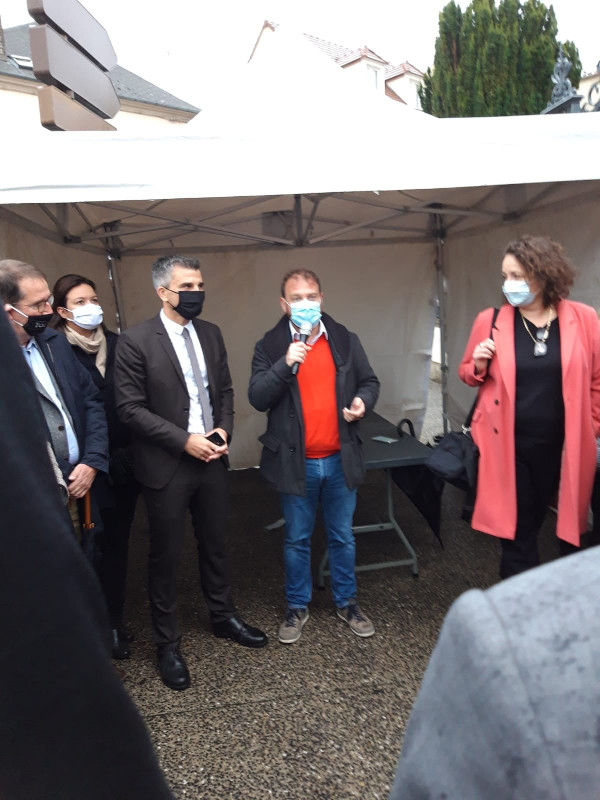 Our CEO Sylvain Denoncin presents aBeacon
aBeacon and AMY: how does it work?
Thanks to our device aBeacon installed on traffic lights that transmits continuous ultrasounds when the pedestrian signal is red, AMY can receive them and thus alert the user before crossing. AMY is the app specially developed by the RATP in order to reduce the number of accidents involving smombies.
Indeed, after observing an increasing number of accidents involving pedestrians on its streetcar network, the RATP, who has always considered the safety of its passengers an absolute priority, chose to develop AMY in a context where public transport is more and more silent. The goal of AMY is to alert smombies on their phones before they cross the street using three different ways:
Vibrations;

Audio alerts;

Visual notifications.
Even when smombies are just listening to music on their phone and thus aren't looking at their screen, they can easily be warned. Users just have to choose which way they want to be alerted.
It's truly the combination of both technologies that enables smombies to cross the street in a safe and secure way although it doesn't excuse them from remaining watchful of their surroundings.
The AMY alert states "Attention the signal is red!!"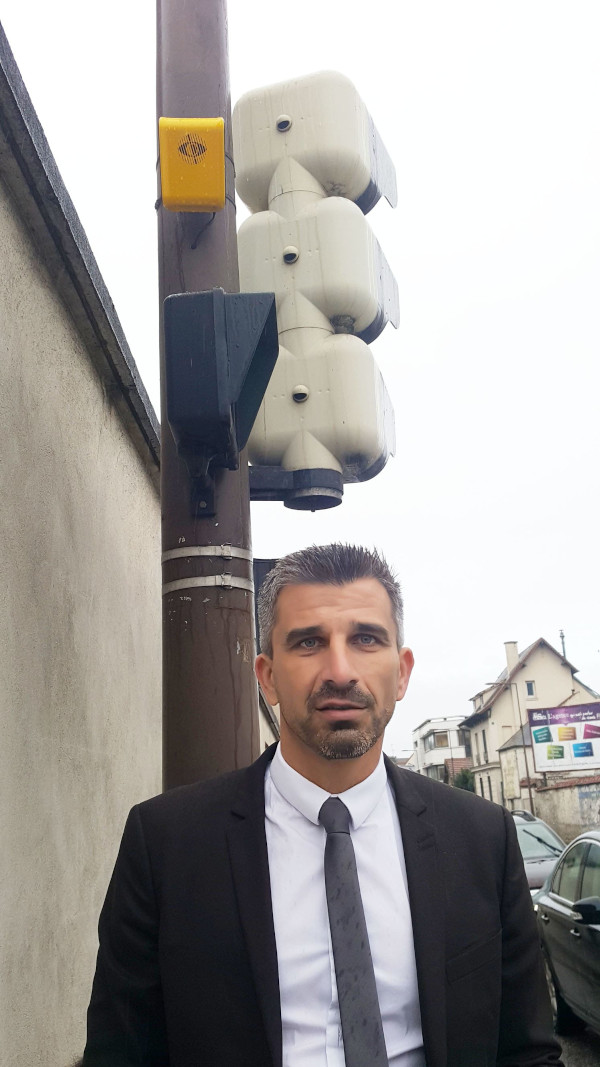 Benjamin Charles from the RATP in front of traffic lights equipped with our device aBeacon
Why this solution?
With aBeacon, we have an innovative technology fixed to traffic lights that already includes a main functionality: on demand sound activation by visually impaired pedestrians to indicate them when the pedestrian signal is green. Thanks to a contactless activation and the use of a remote control or a smartphone, visually impaired people can cross the street in a safe and autonomous way. Our team has added to aBeacon the functionality of transmitting ultrasounds so that it can operate with AMY. An extra functionality that brings another dimension to our connected device to answer the needs of all types of users and not only of one category.
AMY uses ultrasounds to alert smombies because it's a simple technology: it only needs a microphone to receive ultrasounds. All types of mobile phones and smartphones are equipped with it. Moreover, ultrasounds are "safe" waves and don't have a negative effect on our health.
For Benjamin Charles, project manager of AMY at the RATP, the issue is to work together to avoid accidents and consequently to save lives: "We combine the innovative technology of aBeacon with AMY to reach the maximum number of people and thus avoid dramatic accidents. With this combination we have all the ingredients of a great success."